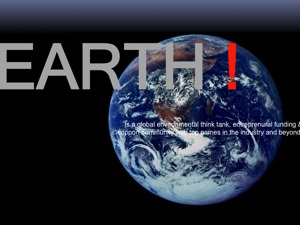 Good Morning! It's 09:33 am. and this is my first trembling step into the blog world as a publisher of my own blog. Even though I'm a Product Designer, I will write about many other things, like personal projects that are either about important issues or just fun projects or thoughts.

Today I will write about a project that has been in my drawer for a while now. The reason for this is that i tend to come with an idea and never get to the next step to realize it. Quite common for many of us. Either it's a time prioritization or just don't know how to take the next step. For me it's both. Anyway, this topic EARTH is not a money driven idea, even though I think generating money is one of the primary answers to improving the health of our planet. EARTH! is about trying to create a global platform and community for evironmental issues. It might sound boring to most of us and a website just for tree huggers, but if one executes it in a way that is interactive, intriguing and more than just claimed facts and figures. See it as the future engine of the the environmental era, where one brings all the worlds questions, thoughts, solutions, reports on one place, to be prossesed.

By using a 3D animated EARTH! globe (like Google Earth) in order to be able to navigate and see geographicly the status of our planet. Report environmental alerts onto the 3D globe. Invite famous celebrities as ambassadors, who are enironmentaly active, like Elon Musk, Leonardo Di Caprio, Larry Page and others in order to get more media coverage and a boost to the discussion. Create a Think Tank for ideas and issues to be prossesed. Get sponsors. Pitch your environmental idea, get support and funding or crowd-funding. Invest in environmental projects, or in a green stockmarket. Invite experts, professors and interesting personalities. Imagine the power of a community of milions of green super brains on one place. Green power. A lot of people who wants to contribute, thinks: But what can I do? and it stops there. Here it's easier to reach out to the gigantic eco system of the super community EARTH! Then we only need to get the Swedish Nobel Commity to install a new category: Nobel Prize of Environmental contribution.